Seafood World Restaurant is offering the best to their customers to keep an edge in competition. Going out for seafood, crab legs, lobsters or stakes means a trip to Seafood World! Located just a minute away from the ocean beach, on the main street , so it's very easy to find.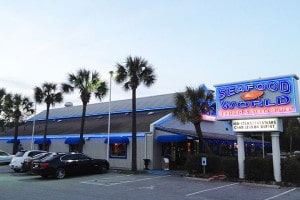 Call Ahead for Reservations: (843)626-7896
If you prefer to have a dinner at home, we'll deliver it right to your door. Choose from our delicious menu or get Alaskan Crab Legs by Lb (minimum $50 order required).
Live Maine Lobster , Crab Legs by Lb , Salmon , Tilapia , Flounder Plates , all your favorite steaks and seafood platter combinations , appetizers , you name it , you can find them all under our "Menu" Tab .
Summer Hours : Mon-Thur 12:00-11:00 , Fri-Sun 12:00-12:00
Winter Hours : Mon-Thur 02:00-10:00 , Fri-Sun 12:00-11:00