Seafood World Restaurant is offering the best to their customers to keep an edge in competition. Going out for seafood, crab legs, lobsters or stakes means a trip to Seafood World! Located just a minute away from the ocean beach, on the main street , so it's very easy to find.
At Seafood World, we take pride in serving the freshest and finest seafood buffet in the Myrtle Beach area. With our "all you can eat" seafood and steak offerings, you can indulge in a variety of seafood options, including Alaskan Snow Crab Legs, meats, breads, vegetables, soups, and salads. Our menu also features appetizers, dinner platters, and surf and turfs for those who want a full meal.
With three islands of fabulous food to choose from, including a calabash style fried bar, broiled and baked bar, salad and dessert bar, you can discover the ultimate buffet dining experience. Our dining room is designed to provide a classic cruising vessel experience, complete with detailed woodwork and beautiful murals that reflect the spirit of the sea.
At Seafood World, we strive to provide excellent food at a fair price and Superior Customer Service. Our wait staff are friendly and knowledgeable, and can accommodate you whether you're dining alone or with a group of friends or family.
We have been serving the best crab legs on the grand strand since 1990, and we ensure the quality of our food by buying fresh seafood daily. Whether you're a seafood lover or simply looking for a great meal, Seafood World is the ultimate destination for you. Visit us today and taste the difference of quality over quantity at Seafood World Buffet.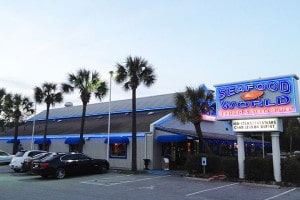 Call Ahead for Reservations: (843)626-7896
If you prefer to have a dinner at home, we'll deliver it right to your door. Choose from our delicious menu or get Alaskan Crab Legs by Lb (minimum $50 order required).
Live Maine Lobster , Crab Legs by Lb , Salmon , Tilapia , Flounder Plates , all your favorite steaks and seafood platter combinations , appetizers , you name it , you can find them all under our "Menu" Tab .
Summer Hours : Mon-Sun 12:00-11:00
Winter Hours : Mon-Thur 02:00-10:00 , Fri-Sun 12:00-11:00
We Are Currently Closed for Renovation. Will reopen in February